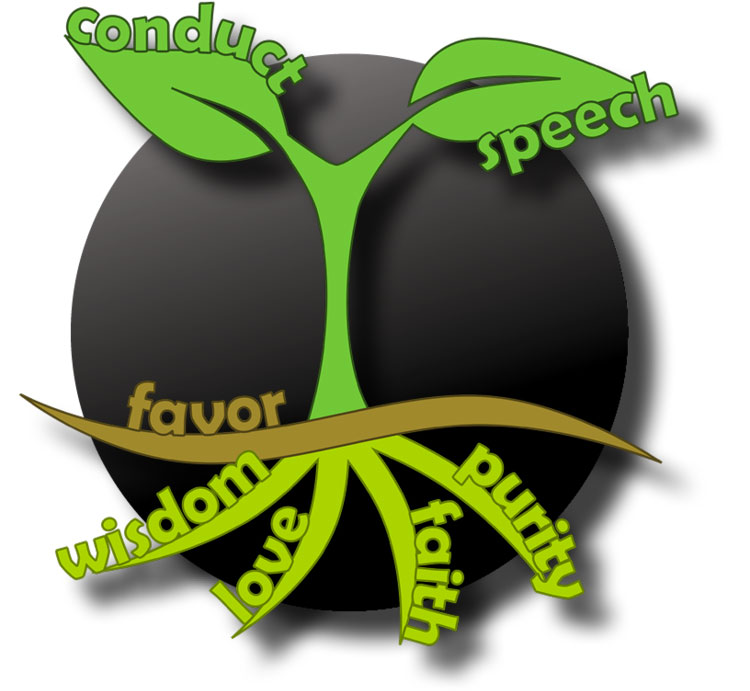 "a planting of the Lord"
This illustration may be helpful in visualizing how the rich soil of God's favor nourishes roots of wisdom, love, faith, and purity, and as they grow deep, our speech and conduct flourish to the glory of God.
For as the earth brings forth its sprouts…so the Lord God will cause righteousness and praise to sprout up before all the nations. —Isaiah 61:11
Foundation — favor
Often times we forget that God's favor is the foundation of our lives, we are completely dependent on him. Think of God's favor as anything he does in, through, or for you. We can see the favor of God in his provision, protection, presence, and purposes.
I am the vine; you are the branches. Whoever abides in me and I in him, he it is that bears much fruit, for apart from me you can do nothing. —John 15:5
Core Four — wisdom, love, faith, purity
Wisdom, love, faith, and purity are the "core four" because they reflect the condition of our hearts. It is in these areas that we need God to unleash his favor first and foremost—causing them to flourish.
Wisdom: As we pray for wisdom to take root in our generation, remember that in Colossians 2:3, Paul says that "in [Jesus] are hidden all the treasures of wisdom and knowledge."
Love: God is love. Love for God and others is the crux on which all the law and the prophets hang (according to Matthew 22:37-40).
Faith: Faith is the gift of God's favor that makes salvation possible (Ephesians 2:8-9) and is absolutely necessary in pleasing God (Hebrews 11:6).
Purity: Matthew 5:8 says, "Blessed are the pure in heart, for they shall see God."
Public Fruit — speech, conduct
It is in our speech and conduct that we "go public" with who we are on the inside. Our wisdom, love, faith, and purity are forged on the inside and then expressed on the outside in what we say and do.
Are my speech and conduct "put on" so that I am playing the part without the heart?
What do my speech and conduct tell me about the spiritual condition of my heart?