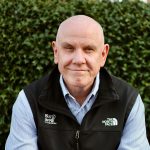 Tony Souder
CEO – One Hundred Years
Founder – Pray for Me Campaign
Tony is the CEO of One Hundred Years and the Founder of the Pray for Me Campaign, both of which are ministries dedicated to helping churches flourish in bringing the greatness of God to the next generation.
For nearly 30 years, he has been connecting, coaching and caring for youth ministry leaders across denominational and racial lines throughout the Southeast. In 2014, he began intentionally equipping churches and ministries across the country to build natural and effective intergenerational relationships through the Pray for Me Campaign.
To date, the Pray for Me Campaign has been launched in over 750 churches and ministries, creating over 150,000 life-giving intergenerational relationships in 47 states and 7 foreign countries. He is author of the Pray for Me Prayer Guides and speaks regularly at conferences and churches on the topics of Connecting the Generations and Prayer. Tony and his wife Rhonda have been married since 1985. They have twin adult daughters and live in Chattanooga, Tennessee.